Cool Reception are the ultimate wedding band
Your wedding day is a very special one and you only have the one chance to get it right. The evening reception makes up by far the biggest part of the day, so choosing your entertainment is critical. When booking entertainment you will need to think about all your guests, whatever their age and taste in music.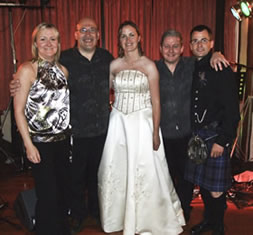 Cool Reception have the benefit of having played at over a thousand weddings and we know what it takes to make a successful one, so why not take advantage of our expertise?
Weddings make up around 80% of Cool Reception's schedule, so our experience is invaluable. We treat every reception as a 'blank canvas', so when it comes to the choice of music, no two are ever the same.
Where required we will also provide background music at the beginning of the evening and during the buffet. We also provide non-stop mixes of music for dancing to during any breaks, so there is no break in the entertainment.
To help create the right atmosphere, Cool Reception will provide a top class dynamic light show for the venue and also provide stage lighting for themselves as long as there is space to do so.
So if you want a night to remember for all the right reasons then don't delay. As you can imagine we tend to get booked up well in advance so to avoid any disappointment get in touch as early as possible.