Cool Reception – Find out what we do and how we got there
Cool Reception is not just a fantastic band it is also a collection of professional musicians and vocalists with many years of experience and thousands of gigs under their belts.
Our bio pages will let you see the individual skills that each member brings to the band and also give you an insight into their musical backgrounds.
Iain – Drummer & Vocalist with Cool Reception
Self taught, Iain started drumming aged nine with two pieces of doweling and a load of biscuit tins. Around 18 months later he was given access to an acoustic guitar which he managed to get a tune out of and taught himself guitar and then bass, forming his first band with some friends. Aged eleven and now guitarist and vocalist with the band, they entered and won their High School "Opportunity Knocks" competition.
The next few years were spent gigging locally, still with the band formed at school, and at the same time DJ-ing with the family mobile disco until he decided aged 16 to return to his preferred instrument, THE DRUMS!
He then spent a few years gigging with a different bands playing soul, blues and pop covers and also some projects recording original material. Iain joined his first function band in 1985, a talented trio who quickly became a favorite act performing on the local club circuit for a few years.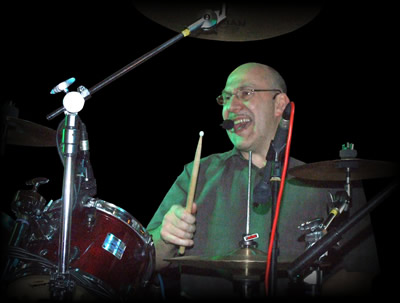 Iain joined Cool Reception in 1990 and as well as drums and vocals he takes care of the bands musical sequencing, lighting programming, sound production, web presence and also deals with any booking enquiries.
A qualified sound engineer and web developer, Iain runs his own professional recording studio and web design company and has also taught drums to pupils of all ages for a number of years.
Musical influences are wide and varied stretching from the early 70s music right up to current bands with some favorites being Delamitri, Level 42, Stevie Winwood, Sting, Donald Fagan, Tina Arena, Extreme and Squeeze.
Interests include music, photography, fishing and web design.
Iain uses a Yamaha Stage Custom Kit, Zildjian cymbals along with Gibraltar, Yamaha and Premier Hardware.
Wendy – Lead Vocalist & Percussionist with Cool Reception
Wendy has been singing since primary school and is also an accomplished dancer.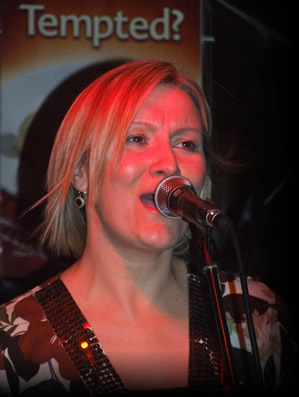 Following a successful spell on the Karaoke circuit in the early 90s (which helped fund a few nights out in her University days!) she found her way onto the live circuit in her home town of Penicuik.
Having joined a band performing covers and original material she then spent a few years gigging in and around Edinburgh singing both lead and backing vocals, including a few recording studio demos. During this time she developed into a mean tambourine player and now can shake it with the best of them!
Wendy has been performing with Cool Reception since 2001
Musical influences include Eddi Reader, Bonnie Raitt, Alison Krauss, right up to Alicia Keys, Corrine Bailey Rae and bands like The Feeling and Take That (now not then!!)
Interests include cooking, gardening, walking the dog and socialising!!! (all of the above with wine!)
Campbell – Guitarist & Vocalist with Cool Reception
After commencing a comprehensive instruction course in all styles of guitar playing at the age of twelve Campbell has been gigging since the mid 70′s with all types of bands including rock,pop, rock and roll, soul, funk and even punk rock.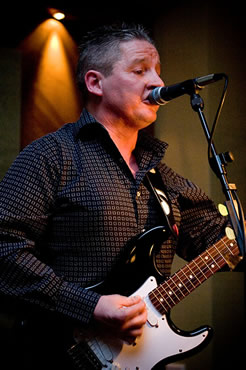 In the 1980′s most of his work was in playing clubs and pubs covering well known pop and rock songs which helped fund him through University.Wedding and corporate function work was covered in the 1990′s with a couple of well known local bands.
He has been a member of Cool Reception since July 2006.
Main guitar influences include Hendrix, Clapton, Led Zeppelin, The Beatles, Steely Dan, The Shadows and a whole load more.
He became interested in playing Alto sax in 1993.Sax influences are Cannonball Adderrley, Charlie Parker, Phil Woods and John Coltrane.
Campbell also is well known in the Lanarkshire area where his services are constantly in demand for teaching guitar and alto sax.
His main interests include travel and music.
Campbell uses a Fender USA Custom Strat, Behringer V-Amp Pro and pedal board.
Sharon – Lead Vocalist with Cool Reception
Sharon began her singing career at the age of 6 treading the boards with her local drama company.
At the age of 20 she moved to the island of Jersey and began singing in the pubs and clubs to support her income. After 4 years she returned to her home town of Berwick Upon Tweed and after recording a charity CD was invited to join a popular Borders duo.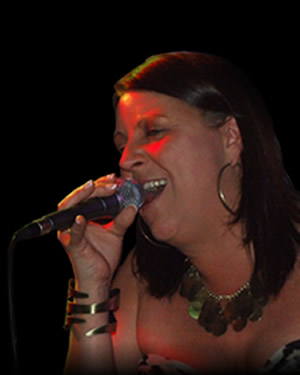 After 10 years with the Berwickshire duo she joined an East Lothian duo spending another 4 years gigging all over Scotland and the Scottish Borders and as if she wasn't busy enough during these 14 years, she managed to get married and have her two children!
Sharon has been performing with Cool Reception since 2005 and has also performed in Spain and Greece as a solo singer.
Sharon has a wide taste in music varying from Musical Theater to Kings of Leon and pretty much everything in between! In fact as She says in her broad Berwick accent "waye aye, there's not much I don't like"
Her main interests include her family and sun bathing, sun worship, oops almost forgot to mention baking in the sun.
Rab – Dep Guitarist/Vocalist with Cool Reception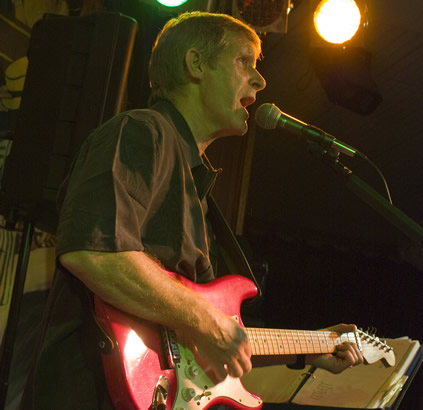 Rab is an accomplished seasoned musician and has been performing at weddings and functions with bands for many years now. He kindly lends his services to Cool Reception when required and has been performing with the band on a regular basis since 2009.
Rab has a great voice and shares the lead vocals with the girls throughout a function. He has performed many times now with the band and his guitar skills fit in with well with standard of performance that Cool Reception demand.
Rab uses a Fender USA Custom Strat and Behringer V-Amp Pro and pedal board.